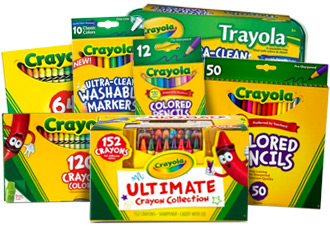 Crayola.com is the official online store for Crayola® products. They offer a huge range of Crayola® brand name items, including crayons, markers, Silly Putty®, Color Wonder, Creative Makers, and even Crayola® Custom 64 Boxes.
Crayola recently announced that to make room for a new color that is coming soon, its treasured color Dandelion will be retiring after 27 years of delighting children and fans around the world. Yes its official, Crayola is saying goodbye to the color Dandelion in all of their crayon boxes. But cheer up! The departure of their yellow
good fellow doesn't have to leave you mellow! They've got excellent mementos to keep Dandelion's brightness in your heart for years to come. How about a 2 pound yellow crayon or a 64-count box of crayons! In their Team Yellow collection you'll find lots of souvenirs from baby clothes to plush toys to keep your friends sunny disposition aglow!
In the meantime, take advantage of these special online offers from Crayola.com. Click on any of the following links and use the respective "code" at checkout to score your discount (if a "code" is listed in any of the link(s) below.
10% off $30+ order with code JUNE30
Free Coloring Pages from Crayola
Offer expires on Friday June 30th, 2017!