I put this together after Derek Jeter's last game but wanted to keep this available for any other Yankees or baseball fan to appreciate. Growing up as a New York Yankees fan in New York, I always enjoyed the entertainment value of watching a Yankees game.
Residing here in South Florida, technology has enabled me to either catch a game by radio, television or online one way or another. While it's not the same as going to the old or new Yankee Stadium in the Bronx, I always appreciate catching a Yankee game one way or another.
Last night, New York Yankees iconic shortstop Derek Jeter played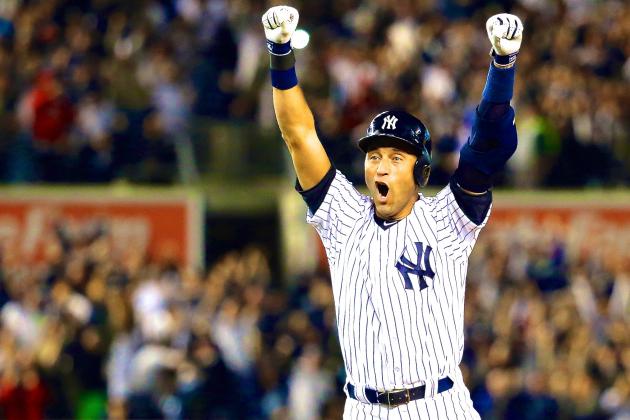 his last home game as a New York Yankee. Ironically, it was the first time in his legendary career when he started a home game at shortstop and the Yankees were mathmetically eliminated from the playoffs. To play over 2,700 games and the first time you weren't playing for a playoff opportunity in front of your home fans was your last game in 20 years; is a testiment of his winning ways.
Last night, I had the opportunity to watch the Yankees game as they hosted the Baltimore Orioles. In grand fashion, Derek Jeter came up in the bottom of the 9th inning in a tied-game and he hit a "walk-off walk-off" base hit to help the Yankees win the game. I convey "walk-
off walk-off" as he was able to hit a game winning hit and not only walk-off hit (the field) for that game but to walk-off…out of Yankee Stadium for his career.
This has nothing to do with coupons or discounts, but he has provided many Yankee fans including myself the opportunity to watch many games and to have lots of entertainment over the years. Sometimes it was "free entertainment" by watching it on TV or listening to the games on the radio. Sometimes I paid for tickets to watch him and the Yankees play in person. By saving money with coupons and discounts over the years, it justified the money I spent watching Derek Jeter and the New York Yankees play with my own innocent entertainment value.
I included three videos for you to have some "free entertainment" with. Take a few minutes to play
the videos of last night's entertainment if you want to relive the memories or if you were not able to view it for yourself and won't admit it to anyone else! 😉
Thank you Derek Jeter for being a class act throughout the years along with all the great baseball memories! See you in Cooperstown in 5 years!
This post may contain references to products and/or services from one or more of our advertisers. We may receive compensation when you click on links to those products and/or services. Click here for more information.